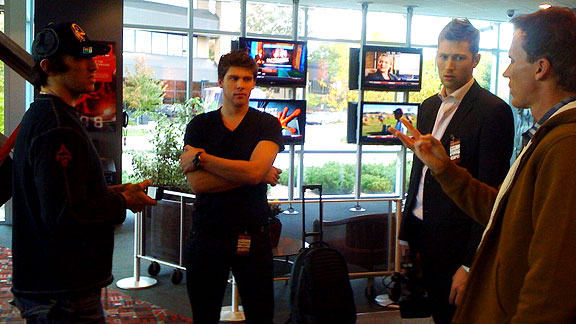 Alex Ovechkin, Semyon Varlamov, John Buccigross with legendary Brett Leonhardt (ESPN)

By Dan Steinberg, DC Sports Bog, Oct. 20, 2010:
Stretch -- as Leonhardt is known in Ballston -- has put together one of the more interesting resumes you'll find. Hired as a Web site producer, the former collegiate goalie famously suited up for a game two years ago, which made him an enduring fan favorite, and he still occasionally fills in between the pipes as needed.

But editing video and blocking pucks aren't his only marketable skills. When the team was preparing for its party cruise up the Potomac this past summer, Community Relations Director Elizabeth Wodatch suggested he provide the entertainment.

Now, this cruise involved people like Dick Patrick and George McPhee, so Leonhardt didn't do a straight hip-hop set, instead including some oldies and soul and classic rock. He was such a hit that Director of Game Entertainment Mike Wurman suggested he provide the team's warm-up accompaniment during the home opener, and after Stretch provided a 16-minute playlist, it was on. The original deal was just for one game, but players and fans liked it so much that Leonhardt is now set to continue his run indefinitely.

"We love it," said Mike Green, who said the Caps might now have the best warmup music in the NHL. "I mean, I think it's important for us to get excited for the game and pumped up, and warmups is where you get ready. The music's great now. It used to be terrible, just old rock songs, kind of slow, that couldn't really get you going."

"I love it," Alex Ovechkin told me. "I think all guys love it, how it works. And it's good stuff before the game; we just listen to good songs and get into the game right away."

"His size is pretty big," Ovechkin pointed out, "but he looks good over there as DJ."

Leonhardt's mixes are expansive, sprawling things: his setlists (which are posted online) range from Neil Young to Jay-Z, from Foo Fighters to Lil' Wayne, from Pearl Jam and Nirvana to Wu-Tang Clan and the Chemical Brothers. One night, he relied heavily on Canadian bands, earning post-game props from several players.


Photo courtesy Caps Snaps


Another night, he mixed in some Bodyrox house music taken from Ovechkin's iPod, which also includes Tupac, Akon, DJ Smash, and a lot of Russian dance music. Some players have already given suggestions, and others are lying in wait.

"We would love to have a country music warmup, a few of us," Alzner confessed.

"Wheeeewww,' Leonhardt whistled at that idea. "That will not happen. I'll say this, if Alzner has a game where he gets multiple goals, then I'll play an All-Country Night, you can print that."


He also promised an All-Ovi-iPod Night if Ovechkin registers any five-goal performances, but there are already plenty of hockey touches.



Ovechkin and Brett Leonhardt reviewing All-Ovi-iPod Night bet. Photo by Nate Ewell



He'll loop the "O-V" from Jay-Z's "H to the O-V" refrain, mix in Steve Kolbe and Ron Weber goal calls over instrumental beats, and highlight Wale's occasional Ovechkin name-drops.

In the meantime, Leonhardt will continue performing his third major job for the Caps.

Yeah, but don't get any ideas... Stretch is a web producer and DJ, but his major job is a goalie...
More posts about Stretch:
Brett 'Stretch' Leonhardt, the most interesting man in the World

Ten minutes of fame (ESPN)

---
Link to the latest post