Ovi misses the chance on a breakaway vs Finland and looks exhausted, like "fish out of the water" afterwards.
Ovechkin answers to "what went wrong" on a breakaway after the game(Sport-Express):
I made a wrong decision, should've shoot instead. But it's not that important, what is that I felt much better today and was creating scoring chances. I had chances and that's what is the most important thing for me.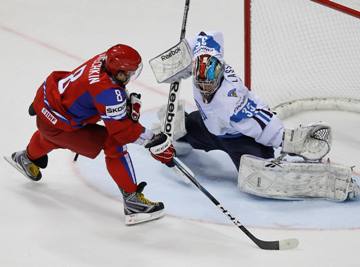 Photo Reuters
Finland won on shootouts and Russia dropped to a forth place in Group E.
Next game is vs Canada (May 12th), that's gonna be fun, no matter who will win. No excuses for Ovi in the next game because of a jet lag. Hope Artyukhin would be as good against Canucks as vs Euros. :-)
---
Link to the latest post